| | | | |
| --- | --- | --- | --- |
| Participation at SAPA WG on UNHR Regional Consultation for Joint Action Initiatives | | | |
Participation at SAPA WG on UNHR Regional Consultation for Joint Action Initiatives, 30-31 March, Bangkok
SAPA (The Solidarity for Asian People's Advocacy Working Group on UN Human Rights Mechanisms) has existed since 2007 and is being coordinated by FORUM-ASIA as its convener. Jerald Joseph, Executive Director of Dignity International was invited to be on the first Panel titled "Twenty-Five Years of the UN Declaration of the Right to Development: Evolution of the Debate and the Practical Relevance to Asian NGOs Human Rights Advocacy".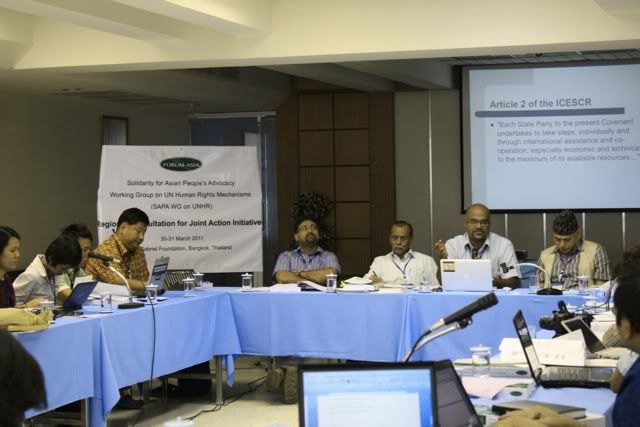 He spoke about the experience of Dignity International's work on economic, social and cultural rights over the last 10 years working with grassroots communities. He focused on the demands from the people on the ground on what 'Development' means for the struggling communities for basic rights such as house, land and water, despite the existence of the UN human rights Convention on the Economic, Social and Cultural Rights and the Declaration on the Right to Development. This 25th anniversary by the UN can be a point to demand from governments to fulfill their obligations both nationally as states and internationally as a global international regime.
The workshop was well attended by about 40 participants from all over Asia. It worked to come up with a common understanding of recent developments in the UN human rights mechanisms, and then develop a regional joint action initiative for 2011.
Search
Article Archives
►

2014 (2)

►

February (1)

►

January (1)

►

2013 (10)

►

July (1)

►

June (1)

►

May (2)

►

April (2)

►

March (2)

►

February (1)

►

January (1)

►

2012 (3)

►

2011 (28)

►

November (1)

►

October (2)

►

September (2)

►

August (4)

►

July (1)

►

June (1)

►

May (5)

►

April (1)

►

March (9)

►

February (1)

►

January (1)

►

2010 (7)

►

December (1)

►

November (2)

►

October (2)

►

August (1)

►

February (1)